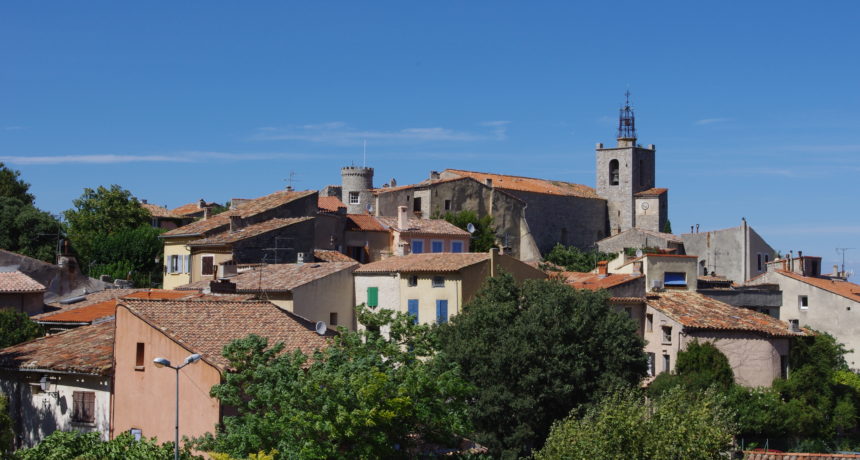 Solliès-Ville
Let yourself be charmed by this Provencal village charged with history. Solliès-Ville was the main fortified town of the region and has played an important role in the history of the county of Provence. Perched village overlooking the Valley of Gapeau sheltered from noise and the urban nuisances in a quiet and very green environment. The bell tower of its church stands proudly like a sentry with the houses of the village huddled around it.
During your walk through the cobbled streets, you will discover some historical remains and enjoy the sumptuous panorama of the Valley.
You can have a drink or a meal on the lovely village square where the terraces of the restaurants and bars are gathered in the shade of the superb hundred-year-old plane trees, in a peaceful atmosphere, the children play close by, the parents are looking after them while taking the aperitif.
A bit of history
Solliès-Ville is without a doubt the spiritual capital of the canton. Indeed, originally, Solliès-Ville formed a single territory with the communes of Solliès-Toucas, Solliès-Pont and La Farlède formerly called Solliès-Farlède.
It was in the 16th century that the Solliès-Ville inhabitants gradually settled near the fertile banks of the river Gapeau and gathered in small hamlets: Solliès-Pont (which had several bridges), Solliès-Toucas (where the Tocasso brothers lived) and Solliès-Farlède. It was in 1799 that the commune was divided into four distinct villages.
Village of tradition, Solliès-Ville remains nonetheless turned towards the future and deserves a detour.
The star of Solliès-Ville
What particularly strikes about Solliès-Ville, it's the calm ! The tranquility of the place calls for the discovery of the typical alleyways of Provence.
During the wanderings, you will discover a village that listens to its past traditions.
The St Michel church or the Provencal clothing Museums and Jean Aicard make it possible to plunge back into a distant time that is good to rediscover.
The Museums
Solliès-ville ha s managed to preserve its traditions and likes to transmit them. The Museums of the village are the best proof of this.
The Provencal clothing Museum presents in its old mill more than 200 costumes, the oldest of which dates back to 1800.
The Jean Aicard Museum highlights the writings of this great Provencal poet and writer.
A free guided tour of the Provencal clothing Museum, the St Michel church and the Jean Aicard Museum (on reservation) is offered throughout the year.