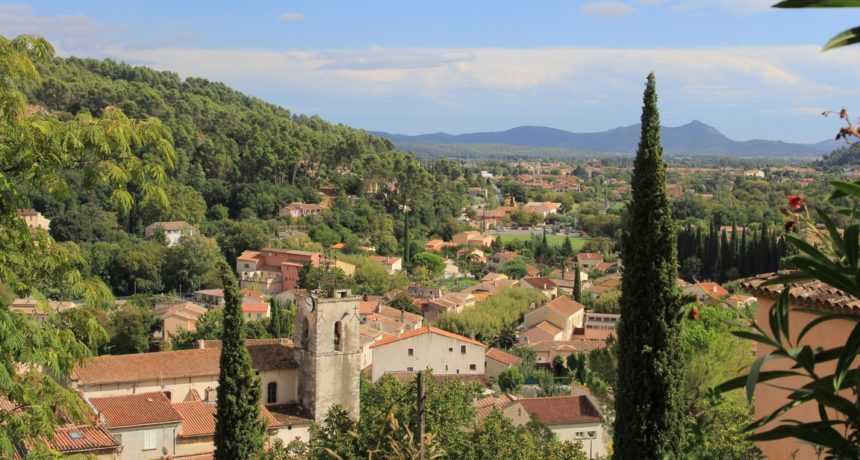 vue-generale-sollies-toucas
Solliès-Toucas is an ancient village set on the green banks of the Gapeau.
The village is strategically located about twenty kilometers from the sea while being away from the crowds and the noise of the coast. In the village the small streets of Solliès-Toucas wind around its old fountains and small squares pleasantly shaded by ancient plane trees. A few meters away from the village's center, you will pass by the pretty bridge which spans the river of Gapeau; you will then cross some terraces of coffee, small grocers, butcheries, bakeries…which are typical of the small villages of the South.
At random of your walk, you can't miss the square church steeple, the large porch and the shaded alleys of the old village. If you like fishing and if you appreciate the calm, Solliès-Toucas will be for you a true paradise, you can also make beautiful walks along the banks of the Gapeau as well as nice walks in the hills that surround Solliès-Toucas and on the plateau of Siou Blanc. Little by little new houses are built around the village; the proximity of the city of Toulon attracts new inhabitants.
Today a village with three beautiful shady squares, nestled on the banks of the Gapeau, Solliès-Toucas inspires "the good life".
A bit of history
In the Neolithic period, the cave of Astier near Valcros was first inhabited and then in the 6th century BC. It was the oppidum of Castellas. In 1501 came two Italians, the Tocasso brothers who set up, between the banks of the Gapeau and the source of the Tuna, frail bastides built by the local peasantry. They were consolidated and called country houses of Tocasso and will become over time: "Solliès-Toucas".